Join International Urban Sketchers, Maru Godàs, Paul Wang, Santi Sallés, and Suhita Shirodkar on Madeline Island for a unique urban sketching experience. Each of these internationally renowned sketchers have a distinct style and technique, yet they share a common love for exciting and experimental urban sketching!
In this fully-immersive workshop, you will learn sketching and painting techniques in a variety of media including watercolor, pen and ink, gouache, and mixed media. Each instructor will guide you in capturing the energy, colors, and textures of serene Madeline Island and the bustling port town of Bayfield. Barns, boats, landscapes, and townscapes will fill your sketchbooks in a myriad of styles and techniques. You will work with instructors from breakfast into late afternoon. Your evenings will include gourmet dinners and wine followed by creative games and discussions.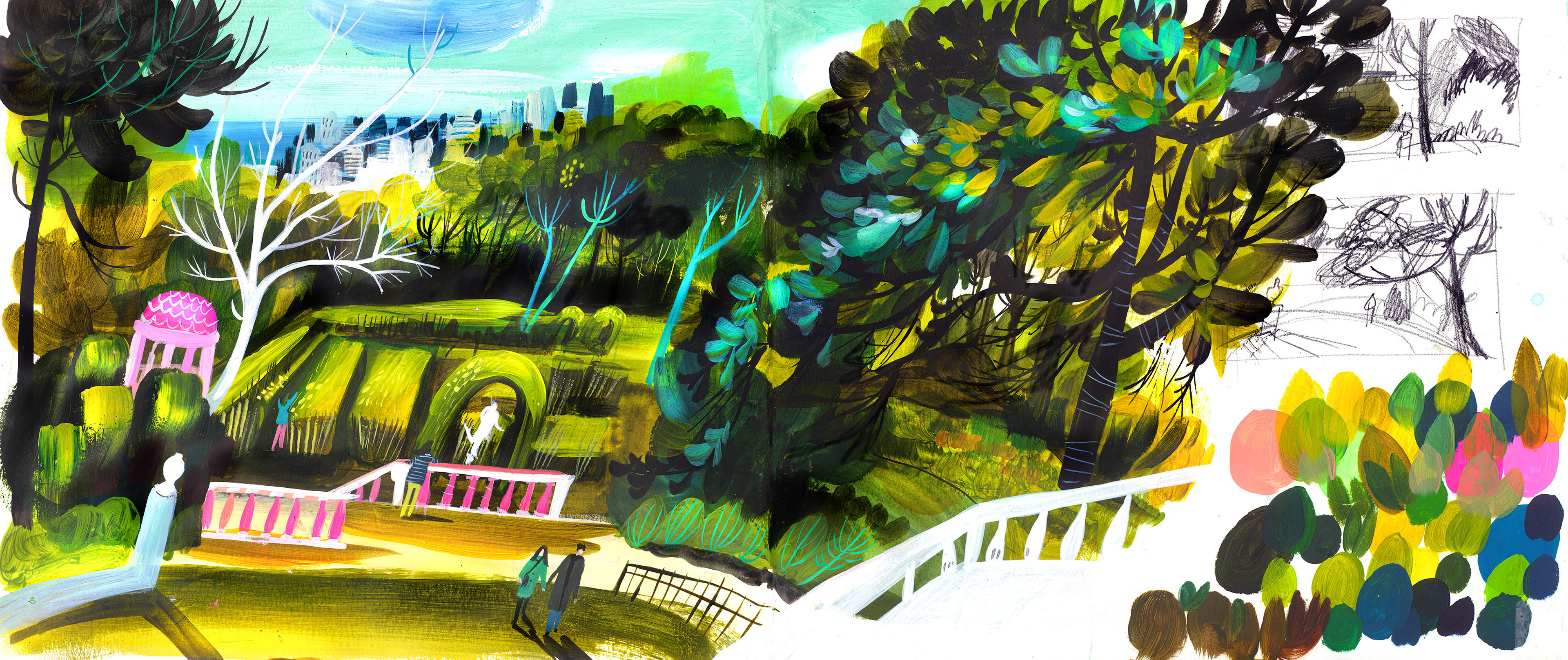 Instructor: Maru Godàs
The Joy of Gouache: Catching landscapes on Madeline Island
Gouache painting is an excellent technique for Urban Sketching. Its versatility is perfect for capturing forests, skies, mountains and lakes using few marks. We'll catch the textures and colors of the Madeline Island landscape using basic gouache techniques: wet on wet, dry brush, layering, dragging, etc. We'll play with different types of brushes and marks to create different elements of nature: grass, leaves, clouds, greens, water, etc. to capture the essence of Madeline Island.
Participants will learn: 
· Basic gouache techniques for urban sketching (wet in wet, dry brush, layering, painting on toned paper, dragging paint)
· How to create landscape elements using a limited color palette combining different gouache marks and textures. (water, clouds, greens)
· How to apply synthesis and abstraction tips to convey the essence of Madeline Island
· Layout guidelines for improving composition and placing a subject in your drawing
· How to plan a big painting on plein air
Instructor: Suhita Shirodkar
Storytelling Sketches: Vignettes full of color and energy
Sketches are not just images, they're visual stories with a sense of place and energy, captured in our sketchbooks, a record of our personal discoveries and memories. In this workshop we will learn to truly look around us, and then choose and compose a spread of vignettes that reflect that experience of the place. Our captures will include everything that interests us: objects, places and people, with no fear of drawing whatever it is we wish to capture.
Participants will learn:
· Techniques to draw any subject without fear, be it people, places, or objects
· To design vignettes as storytelling devices
· To compose complex spreads in their sketchbook using focus and flow
· To use mark-making and color in fresh ways that keep their sketches vibrant and alive
Instructor: Paul Wang
Wet and Wild with Textures
This is a playful workshop that elevates and celebrates textures! Textures are found all around us. We can see and feel textures. In urban sketching, textures can be used to increase visual interest, create illusion of space and convey emotions. Knowing how to create a wide range of dynamic textures with water and paint can also powerfully add energy and movement to your visual stories. This workshop will show you how to observe your surroundings, thereafter mimic and transform textures onto paper with a few creative techniques. After building a big collection of textures, we will learn how to grow and design our sketches with layers of dynamic textures.
Participants will learn:
· Sharpen our awareness of physical textures and the power of visual textures.
· Mimic and transform textures by learning about DENSITY & DIRECTION of watercolour.
· Push & Pull textures to create ILLUSION of depth on paper.
· Learn to DESIGN and develop impressionistic sketches with confidence.
Instructor: Santi Sallés
APPROACHING GREENS on Madeline Island
The main mission of this workshop is to learn to draw nature (On Madeline Island). The aim of the workshop is to give a different vision of capturing nature in their sketchbooks, creating compositions with different scenes and elements of nature. We will practice and mix with the green watercolors and we will do exercises to understand the morphology of the different elements of nature. We will pay special attention to lights and shadows.
Participants will learn:
· How to mix natural greens with watercolors instead of using artificial greens
· Explore a new and original way of capturing nature drawings
· Capture light and shadows currently
· Work with layers, to use natural and real green colors